---
TESTER GALLERIES
Posted by Alice Prier on
  DEAVILLE SHIRT - TESTER GALLERY Take a look at these inspirational makes conjured up by our imaginative and creative pattern testers. First up Gavin justifiably pround of his marvellous mix and match print version. Undeniable chic by Julia in classic black linen chic clearly runs in the family. Llio went for crisp stitching in fresh gingham Katie looks cosy in her peachy version Ethnic vibes from Steven Jude treated us to an angel sleeve hack Neat colour blocking by Justin Melanie grew her shirt into this elegant dress Jane looks happy in her cheerful Roccoco print! Liz has set...
---
Posted by Alice Prier on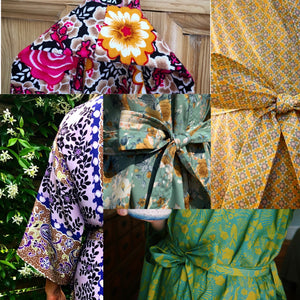 LAVENDER ROBE - TESTER GALLERY Here's some of the creative versions by our wonderful team of pattern testers to inspire you!   Click here to get your Lavender Robe!     Ruth's sensational colour blocking is the perfect combination of Yves Klein blue and Royal Purple. Nicky relaxing in the garden in her floral version - even her mug is sprouting flowers! Rena demonstrating understated elegance in her muted shades - pup seems very impressed - as are we!  Jill is all smiles in her print mash-up - we love the contrast of the gingham and the roses - very picnic...