---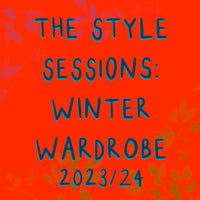 THE STYLE SESSIONS: WINTER WARDROBE 23/24 Mon 30th Oct 6.30-8.00pm UK TIME
Date: Monday 30th October

Time: 6.30-8.00pm UK TIME 

Duration: 1.5 hours
It's time to think about your Autumn/Winter wardrobe, so cue our next online class: The Style Sessions: Winter Wardobe 23/24, in collaboration with Fiona Ingham, personal stylist from House of Colour. 
This Style Session will focus on trousers, jumpsuits and jackets, and how to marry your personal style with current trends. 
Do you find it difficult to make decisions on patterns, fabrics, and design details? 
Dressmakers often tell us that they spend time, money and effort making a garment and then are disappointed that they don't feel great in it. Equally, it's easy to get stuck in a sewing rut, making the same old styles over and over again.
The Style Sessions are all about how to get to know your own personal style. This isn't about rules and regulations but about exploring and developing your own unique look so you can be confident that you really enjoy wearing the clothes you sew and/or buy.

The key to loving everything in your wardrobe is confidence in your personal style - which comes from an awareness of your body shape (not size!), your proportions and your own unique personality.

Take this class as a stand-alone inspiration session or as part 1 in our pattern drafting masterclass collection 'THE WINTER WARDROBE SERIES' - where we will teach you how to design and draft your own perfectly-fitting trousers, jumpsuits and jackets.
Click here to purchase our Winter Wardrobe Bundle and join all four classes. 
The class will be hosted by design and style experts Alice (Alice & Co) and Fiona (House of Colour) who guarantee a fun and enlightening session. The class will cover:
current trends and how to make them work for you - with a focus on trousers, jumpsuits and jackets

picking silhouettes, colours, textures, prints, details and trimmings
putting an outfit together
oodles of inspiration!
Think of it like your favourite fashion magazine come to life where you can ask questions and it will talk back with answers!

ABOUT ALICE AND FIONA
Fiona Ingham is an Colour Analyst and Personal Stylist at international Image Consultancy, House of Colour. She has run workshops for over twenty years for private and corporate clients. Fiona enjoys sharing her knowledge and love of the fashion world including personal colour and style, trends and exhibitions.
Alice Prier is a designer, pattern cutter and teacher, with over 30 years experience making fabulous made-to-measure clothes for women under her label Alice & Co. She is co-founder of Alice & Co Patterns, producing pdf sewing patterns and hosting online classes alongside her daughter, Lilia. 
What you will need
An open mind, a cup of tea/glass of wine, pencil + paper, a mirror
How the class works
The class will take place as a video meeting via Zoom. Once you sign up for the class you will receive a download which includes all the details of how to join. A couple of hours before the class you will also receive a direct link to join via Zoom.
The class will be recorded, with the recording available until the next Style Session in Spring/Summer 2024.

*Please note that you will need to be subscribed up to our newsletter in order to receive emails from us (there is a checkbox when you sign up for the class)*
How to download your Alice & Co Pattern
Alice & Co patterns are provided in three different page formats and are designed to be printed in colour.
Once you have purchased your pattern you will be given a download link. This will also be emailed to you so don't worry if you don't want to download it straight away! 
The download will consist of a zip file containing 4 separate PDF files:
1x Pattern Instructions
3x Patterns in A0, A4 and US Letter sizes  
*Please make sure you read the following instructions carefully before printing!*
For A4/US Letter: it is vital to make sure your pattern prints at full scale or the sizing will not be correct. Your print settings should be set to 'full scale', '100%', 'actual size' or equivalent according to your printer software.
There are two test squares on the first page of every pattern: a 5cm and a 2" square.
Print only this page first and check your square measures up, before printing the rest of the pattern.
For A0 copy shop: follow the instructions given by your chosen copy shop. Services are also available online - we recommend Patternsy - who print on lightweight tissue paper with very speedy delivery to anywhere in the world! Once you have purchased your pattern from us, simply click on the link above to go to their website and follow the steps to upload your pattern. 
//
Comment télécharger votre patron Alice & Co Pattern
Les patrons d'Alice & Co patterns sont fournis dans trois formats de page différents et sont conçus pour être imprimés en couleur.
Une fois que vous aurez acheté votre patron, vous obtiendrez un lien de téléchargement. Celui-ci vous sera également envoyé par e-mail, donc ne vous inquiétez pas si vous ne souhaitez pas le télécharger immédiatement !
Le téléchargement consistera en un fichier zip contenant 4 fichiers PDF distincts :
1x Instructions pour le patron
3x Patrons dans les formats A0, A4 et US Letter  

*Lisez attentivement les instructions qui suivent avant d'imprimer votre patron !*
POUR LES FORMATS A4 / US LETTER : il est indispensable d'imprimer votre patron à 100%, sinon la taille ne sera pas correcte. Vos paramètres d'impression doivent être "pleine échelle" "100%", "taille réelle" ou un paramètre équivalent selon votre logiciel d'impression.
Il y a deux carrés de test sur la première page de chaque patron : un carré de 5 cm et un carré de 2 pouces. N'imprimez d'abord que cette page et vérifiez que votre carré est bien à la bonne taille, avant d'imprimer le reste du patron.
POUR LE FORMAT A0 : suivez les instructions données par votre imprimeur. Des services sont également disponibles en ligne.