---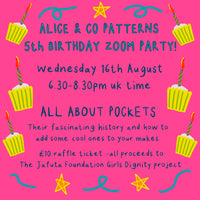 5TH BIRTHDAY POCKET PARTY! Wednesday 16th August 6.30 - 8.30pm UK TIME
Date: Wednesday 16th August 26th

Time: 6.30-8.30pm UK TIME
Duration: 2 hours
Join us to celebrate our 5th birthday party!
Ticket price: FREE or £10 to enter our raffle! Feel free to buy multiple raffle tickets for multiple entries and help us raise as much money as possible for our chosen charity - The Jafuta Foundation.

Our theme this year is pockets - both useful and decorative. Starting with a little pocket history for inspiration we will explore how to design interesting pockets, how to draft the patterns and how to make them. Our special guest Saremy from Sew Sew Live will be us giving lots of hot tips on how to stitch your pockets with a flourish!


RAFFLE
Tickets are £10 - feel free to purchase more than one for multiple entries! All proceeds will be going to Jafuta Foundation Girls Dignity. This is a great project providing girls living in rural villages in Zimbabwe with reusable sanitary protection and sewing skills. This straightforward and effective initiative is life changing, as without sanitary towels girls often feel too embarrased to go to school and so miss out on vital education and life chances. £10 buys a pack of washable sanitary pads which last 3-5 years and can be a complete game changer. They even manage to make them look pretty. So please put your hand in your pocket to help us to buy lots!
Some of our great raffle prizes:
- £30 voucher for The New Craft House

- 4m of luxurious printed cotton from Storrs London
- 10 reels of organic cotton from The Haberdasher Bee
- £30 voucher for The Fold Line
- £50 voucher for Ray Stitch
- $25 Sew Sew Live skill building session It has pockets!
- A personal 1-2-1 Pattern Cutting session with Alice (via Zoom, 40mins)
- £50 voucher for Alice & Co Patterns
GRAND PRIZE: - 219-s Janome sewing machine from Janome UK!
The event will take place as a video meeting via Zoom. Once you sign up for the event you will receive a download which includes all the details of how to join.  On the day of the event you will also receive a direct link to join the event via Zoom.
The event will be recorded  - so if you can't make it on the day you will be able to catch up later!
*Please note that you will need to be subscribed up to our newsletter in order to receive emails from us (there is a checkbox when you sign up for the class)*
ADDITIONAL INFO
Refreshments: we strongly encourage preparing your favourite snack and a cocktail/mocktail of your choice!
Dress Code: From your cosiest PJs to a glamorous cocktail party dress - as this event is on Zoom it's totally up to you! 
How to download your Alice & Co Pattern
Alice & Co patterns are provided in three different page formats and are designed to be printed in colour.
Once you have purchased your pattern you will be given a download link. This will also be emailed to you so don't worry if you don't want to download it straight away! 
The download will consist of a zip file containing 4 separate PDF files:
1x Pattern Instructions
3x Patterns in A0, A4 and US Letter sizes  
*Please make sure you read the following instructions carefully before printing!*
For A4/US Letter: it is vital to make sure your pattern prints at full scale or the sizing will not be correct. Your print settings should be set to 'full scale', '100%', 'actual size' or equivalent according to your printer software.
There are two test squares on the first page of every pattern: a 5cm and a 2" square.
Print only this page first and check your square measures up, before printing the rest of the pattern.
For A0 copy shop: follow the instructions given by your chosen copy shop. Services are also available online - we recommend Patternsy - who print on lightweight tissue paper with very speedy delivery to anywhere in the world! Once you have purchased your pattern from us, simply click on the link above to go to their website and follow the steps to upload your pattern. 
//
Comment télécharger votre patron Alice & Co Pattern
Les patrons d'Alice & Co patterns sont fournis dans trois formats de page différents et sont conçus pour être imprimés en couleur.
Une fois que vous aurez acheté votre patron, vous obtiendrez un lien de téléchargement. Celui-ci vous sera également envoyé par e-mail, donc ne vous inquiétez pas si vous ne souhaitez pas le télécharger immédiatement !
Le téléchargement consistera en un fichier zip contenant 4 fichiers PDF distincts :
1x Instructions pour le patron
3x Patrons dans les formats A0, A4 et US Letter  

*Lisez attentivement les instructions qui suivent avant d'imprimer votre patron !*
POUR LES FORMATS A4 / US LETTER : il est indispensable d'imprimer votre patron à 100%, sinon la taille ne sera pas correcte. Vos paramètres d'impression doivent être "pleine échelle" "100%", "taille réelle" ou un paramètre équivalent selon votre logiciel d'impression.
Il y a deux carrés de test sur la première page de chaque patron : un carré de 5 cm et un carré de 2 pouces. N'imprimez d'abord que cette page et vérifiez que votre carré est bien à la bonne taille, avant d'imprimer le reste du patron.
POUR LE FORMAT A0 : suivez les instructions données par votre imprimeur. Des services sont également disponibles en ligne.